Pine Tree Clinic - Bottlebrush Style
Pine Tree's can be made in a variety of ways but one of the easier ways is the Bottlebrush Method where Sisal Twine or other material types are twisted up in a piece of wire.
While realism generally suffered somewhat with this method, it was a great way to cover large expanses and a better quality of tree was often used towards the front to hide the rather obvious lack of detail to the main part of the forest.
The good news is this; the bottlebrush tree CAN be made to front of the layout standards with a few simple steps and a very minimal cost.
The items needed:
DRILL - cordless is nice but not critical
1 screw hook - placed into your drill
1 small roll of Tie Wire (used for tying rebar etc).......$2.29 (will make aprox 50 tree's)
1 Natural broom grass Wisk Broom.......... $1.00 (will make aprox 5 tree's)
1 roll ¾" wide masking tape..$ 1.99
1 Can DK green Camouflage Spray Paint......3.99( enough for aprox 35 tree's)
1 Can of 3M super 77 Spray Adhesive...........7.99 (enough for over 50 tree's)
Lg - Course Ground Foam In Medium & Dark Green...8.00 Each (will do 30 tree's Ea)
Fine Grass dried and cut up fine.......Free.
Cut up your Wisk Broom into Pieces 4" and 3" long.......Cut a Piece of wire aprox 12 - 18" depending on size tree you would like......18" piece will give you about an 8 ¼" finished tree. Fold wire in Half and match ends then bend ½ back forming a 90 degree angle.
Lay down a length of tape and lay 1 side of wire in the middle...Now add your cut up Broom grass using 4" pieces towards the Bend in the wire and the 3" pieces moving from ½ way and upwards.( this part isn't critical because the Broom grass will be trimmed after twisting) When finished lay another length of tape over the broom grass and fold over the wire. It should look like this: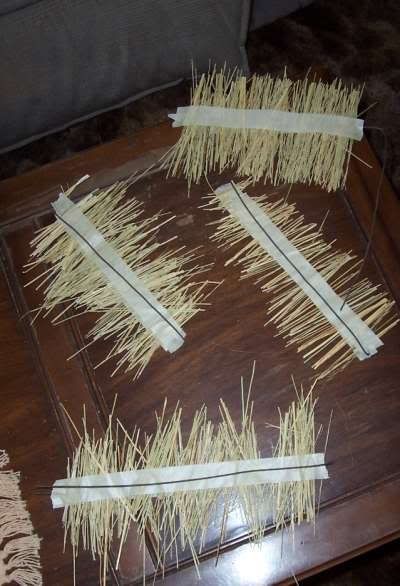 Now. Put the cut ends into a vise keeping the grasses level and tighten vise.
Slip the hook part of your drill through the loop in the wire. Now spin it up!!
Twist it tight but not so tight you cannot remove your hook from the end.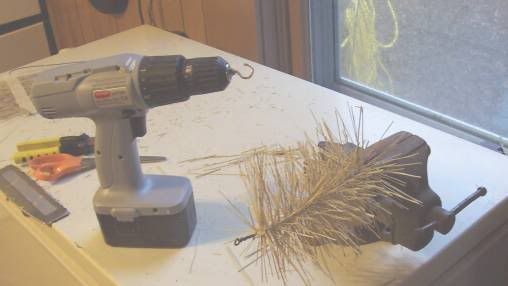 You should end up with a scrubby looking thing but don't worry, you need to trim it up using a good pair of scissors.
All you need do is make it look like a tree...........kind of like this for yard tree's, Skinnier for forest tree's: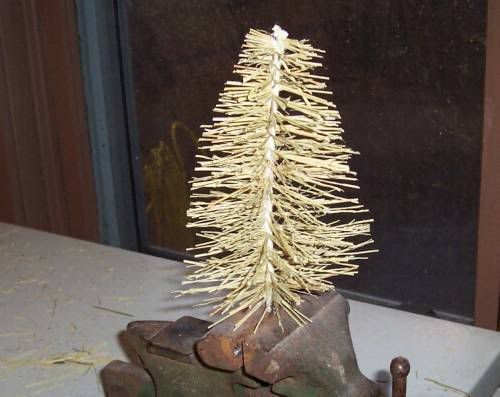 Our next step is the improvement over the old standard.
Use a spray adhesive and sprinkle this armature with the dried grasses you've prepared ahead of time. This will give you this look.
Now spray paint this with your Dark Green paint so you end up like this: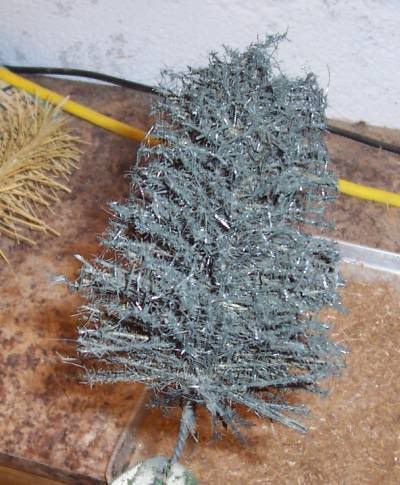 Next you will use your spray adhesive again and add your ground foam. Different colors can give you a different type of tree.
The Same Technique can be used with different materials.....Sisal Rope..Baling twine (cut lengths and unravel and use in place of wisk broom) Cut twine up very fine to replace dried grasses if fine grasses are unavailable)
Heres a picture of afew different experiments with various materials.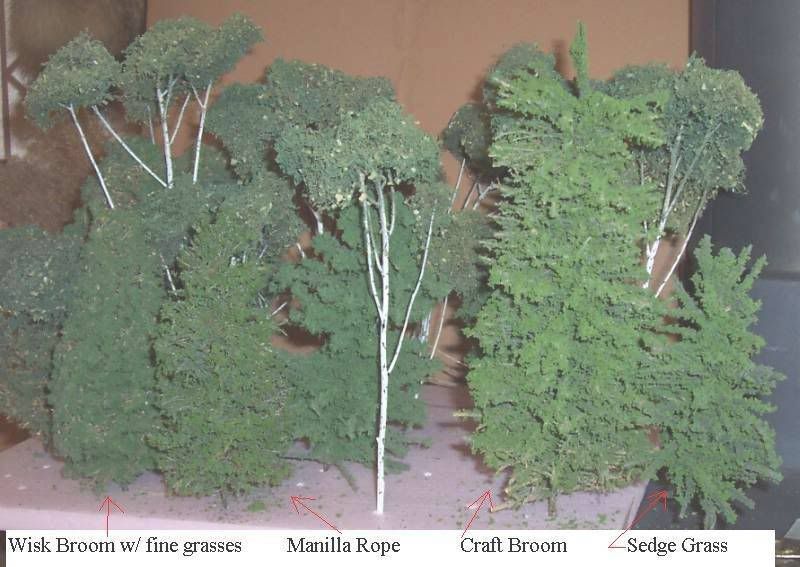 Hope you find this helpful......remember to make Forest tree's Skinnier. Landscaped tree's that have room to grow look much fuller than forest tree's of the same species!!