Well, I know that I'd said no more changes, but I've made a change and now I'm really done! I'd been under the weather for a couple of weeks (nothing serious), so I did some 3D modeling of my model railroad. I discovered that I didn't have enough clearance on the right-hand side underneath the yard, and that the dark blue and purple tracks underneath the yard were too close together, so I made a few quick changes: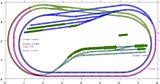 Here are a few 3D renditions: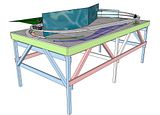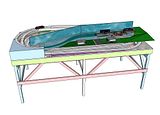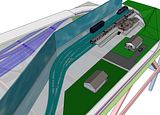 I haven't put in any of the risers, and I haven't "cut out" all of the cookie cutting from the base table, but I think that's okay for the model of the model. I was trying to see what scenery I'd have space for up top, so those buildings don't represent buildings I actually intend to use, though they are nice!
Thanks for reading! I've started a
new thread
now that construction has begun!